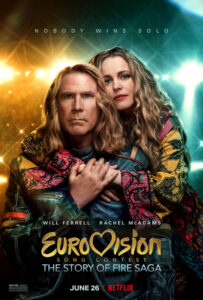 Welcome to Húsavík, our hometown. The place where the mountains sing through the screams of seagulls, and where the whales can live 'cause (we) are gentle people.
Like the rest of the world, we have seen Netflix's new film Eurovision Song Contest: The story of Fire Saga and we just love it. We haven't laughed so hard in… ever I guess. We are also proud to tell you that two of our Cape Hotel family members have small roles as extras in the film. They'll for sure tell you all about it next time you come to stay.
We feel so grateful to Netflix and the cast and crew for this film and for the beautiful song about our small town. Now we want to give back.
Click here to listen to 'Húsavík' from the film.
Win a free one week trip to Iceland
From July 10 to 25 we will accept your covers of the "Husavik" song. All of the songs will be posted on July 25. The view count of the songs on August 10 will weigh 50% against juries from the town of Húsavík. The vote for the winning song will be announced in a special live Eurovision style streaming event on the evening of August 12, 2020.
Click here to submit your cover of Húsavík
The winning song will receive a free flight to Iceland, 2 nights (first and last) in Reykjavík and 4 nights in our hometown Húsavík, where they'll get to try the new GeoSea Spa, our restaurants and a Eurovision themed walking tour of Húsavík.
Click here to learn about the prizes
We can't wait to hear your take on our hometown song and to welcome you to Iceland.
Have a great day!
Orly Orlyson, manager
Húsavík Cape Hotel